Amazon Wedding Card Boxes Reviewed

It can be hard deciding which is the best wedding gift card box. It needs to look beautiful but at an affordable price. Wedding gift card boxes can range from $5 – $200+, depending on how fancy and extravagant you want it to look.
I've reviewed some of the popular wedding card boxes sold on Amazon.com. I have chosen the cheap wedding card boxes (less than $45). Some of these are great options (others are not). If you are after something more fancy, these boxes can still be perfect if you don't mind doing a little DIY, such as adding some flowers or embellishments. Just a simple ribbon wrapped around the box with a flower glued to the front, can make your box look really gorgeous and twice as expensive. And it only costs you a few dollars. Check out my other pages for ideas on how to make your wedding card box look beautiful and expensive.
I purchased all these boxes from amazon and have given my honest review on each one, along with some photos. Hope this is helpful.
(1) Hayley Cherie Wedding Card Box
I love this box, it is perfect for weddings and looks stunning. It has a high quality feel and looks far more expensive than the actual price. It can be accessorized for any occasion and is the only gift card box that includes a ribbon and ribbon slider. Why spend $100+ on a handmade gift card box when Hayley Cherie has done most of the hard work for you.
Click here for the full review
(2) Martha Stewart Gift Card Box, White Eyelet
Rating: 4.5 stars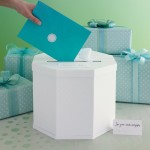 Price: $13.29
This wedding card box looks beautiful and expensive but comes at such a reasonable price. It is a made with high quality cardboard and has a pretty textured finish. It can be dressed up for any celebration. All you need to do is add some simple touches, such as flowers, ribbons or rhinestones and this box looks really stunning.
Click here for the full review
(3) Darice Wedding Satin Card Box
Rating: 4.5 stars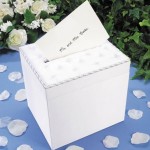 Price: $29.99
This wedding card box looks gorgeous and comes at a great price. It's perfect for smaller sized weddings and has beautiful detailing on the lid and looks expensive with the satin finish. This sturdy box will also be a perfect keepsake box for after your wedding.
Click here for the full review
(4) Cathy's Concepts Reception Gift Card Holder (Silver)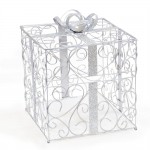 Rating: 4 stars
Price: $42.30
This is the most expensive wedding card box that I have reviewed, but it is the only one with a wire construction. This is a good choice if you like this type of box. I think the price is about right for the quality. If it weren't for the glitter looking a bit sloppy then I would give it a better rating. It's a fancy looking box, that doesn't need any additional decorations. You could use it for all types of occasions.
Click here for the full review
(5) All-Purpose Receiving Box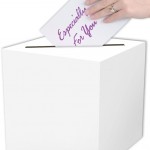 Rating: 2.5 stars
Price: $5.25
This is a cheap flimsy cardboard box. It does it's job, but it certainly isn't wedding quality and is also one of the smallest sized wedding card boxes that I've reviewed. You could try and make it look better with some ribbon or rhinestones, but it really isn't worth it. It is the cheapest box available, but you get what you pay for. It is more suited as a donation box or for low-key events, not for weddings.
Click here for the full review
(6) Creative converting Card Box, Ever After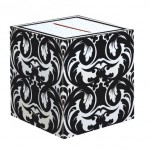 Rating: 1.5 stars
Price: $7.00
A cheap flimsy box that can easily get damaged during shipping. This would have got a slightly higher rating if it wasn't damaged when I received it. The black and white design is nice and unique, but it's still a poor quality wedding card box, where you get what you pay for.
Click here for the full review
(7) Wilton Ornate Pearl Card Holder Box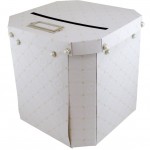 Rating: 1.5 stars
Price: $9.99
Do not buy this box, spend a little bit more and get something you would actually want on display at your wedding. I thought the Wilton brand would have a higher standard than this. It is a terrible design for a wedding card box and made of cheap materials.
Click here for the full review
(8) Card Box Party Accessory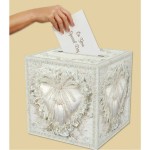 Rating: 1 star
Price: $8.34
Don't buy this box, it looks cheap and awful. You would not want this at your wedding.